Latest Trends in Hypertension Treatment: For Professionals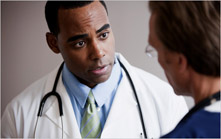 The purpose of this (and the companion patient webpage available here) is to provide health professionals and patients with the most up-to-date and accurate information on the evolving landscape in the treatment of hypertension. We hope it will help you and your care teams better assess and prioritize your hypertension improvement interventions and make the best decisions for your patients and communities.
Current treatment guidelines for hypertension are in evolution since the publication of 2014 Evidence-Based Guideline for the Management of High Blood Pressure in Adults: Report from the Panel Members Appointed to the Eighth Joint National Committee (JNC-8) in December 2013. The JNC-8 report recommended changes that affect treatment goals for patients aged 60 or greater with no underlying condition, patients with chronic kidney disease and patients with diabetes. Other organizations have published statements, articles, or guidelines that are not in agreement with some of these recommendations.
Click on the [+] symbols below to learn more about each topic.
Guidelines and Articles [+]
Measure Up/Pressure Down® Campaign Response and Resources [+]
Statements from Other Organizations [+]